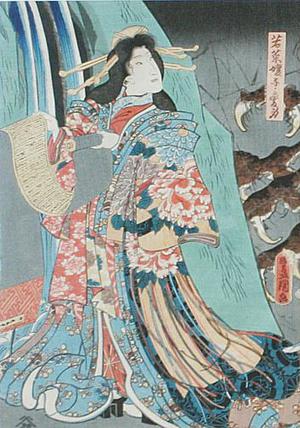 絵師: 歌川国貞
作品名: Raiko Fighting Off the Ground Spider Tsuchigumo
日付: Circa1849-1853
詳細と価格: 詳細情報...
情報源: Robyn Buntin of Honolulu
浮世絵(全 4,310 件)を表示...
画題等:
Legend and popular stage play of heroic Raiko drawn into the web of the mysterious and powerful Tsuchigumo. In some versions he is visited by a mysterious woman wearing a striking outfit and possessing an immensely powerful aura. Tsuchigumo itself may be representative of the power of the Earth, the land, and especially the ground and underground. Raiko's battle is a classic test of boldness, strength and survival.