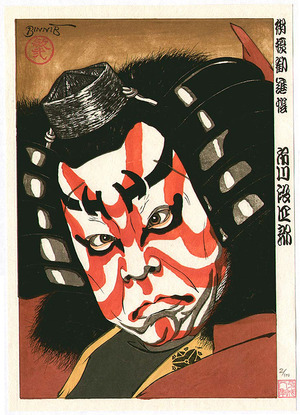 絵師: Paul Binnie
作品名: Ichikawa Danshiro in Gohiikikanjincho
日付: June 1996.
詳細と価格: Paul Binnie: Ichikawa Danshiro in Gohiikikanjincho - Artelino
情報源: artelino - Japanese Prints
浮世絵(全 24,756 件)を表示...
画題等:
This play is the "aragoto" or "rough stuff" version of Kanjincho which gives Musashibo Benkei, a famous role of Ichikawa Danshiro IV, the striking "Kumadori" make-up of a powerful hero. In the play, Benkei must prove his loyalty to his lord, Yoshitsune, by disguising him as a porter to pass a Barrier Gate, and ultimately striking him, an act generally unpardonable in feudal Japan, but done to save his life. (description by the artist, Paul Binnie).