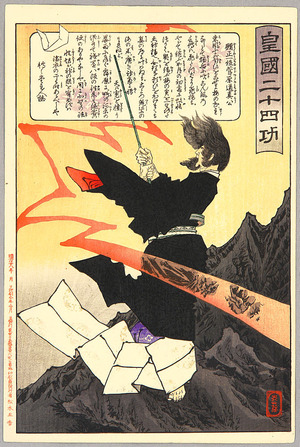 絵師: 月岡芳年
作品名: Thunder God Michizane - Kokoku Niju-shi Ko
日付: 1895.
詳細と価格: 月岡芳年: Thunder God Michizane - Kokoku Niju-shi Ko - Artelino
情報源: artelino - Japanese Prints
浮世絵(全 24,756 件)を表示...
画題等: "Kokoku Niju-shi Ko" (Twenty-four Examples of Filial Children in Japan) An aristocrat, Sugawara Michizane, who was a renowned poet and calligrapher in the Heian Court. He was later involved in the court intrigue and banished to the southern island, Kyushu. The legend said that his angry spirit became the thunder and strike the imperial court in Kyoto. Since then, he was enshrined as the guardian god of scholarship and literature.