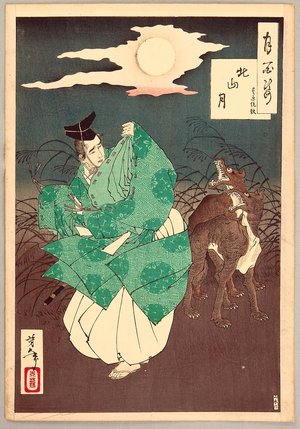 絵師: 月岡芳年
作品名: Kitayama Moon - Tsuki Hyakushi # 32
日付: 1886.
詳細と価格: 月岡芳年: Kitayama Moon - Tsuki Hyakushi # 32 - Artelino
情報源: artelino - Japanese Prints
浮世絵(全 24,756 件)を表示...
画題等:
From "Tsuki Hyakushi" ("One Hundred Aspects of the Moon"), "Kitayama no Tsuki" ("Kitayama Moon"). Toyohara Sumiaki, 16th century, was a renowned flute musician. One moon-lit night, he wandered into the wilderness of Kitayama. Suddenly a pack of wolves surrounded him. He thought he was going to be killed. He played his favorite flute for the last time. But the wolves became spellbound by his music. They disappeared into the woods leaving him unharmed.