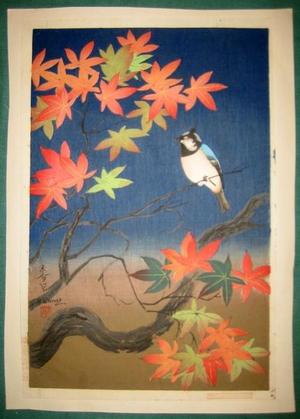 絵師: 大野麦風
作品名: Bird and tree (2nd state)
日付: 1950
詳細: 詳細情報...
情報源: Japanese Art Open Database
浮世絵(全 17,130 件)を表示...
画題等:
Autumn Maple and Bird BAKUFU OHNO Georgeous Autumn leaves and detail rendition of a bird. Look closely and you will see tiny feathers on its chest. I love this design. Ohno Bakufu was a Japanese painter and printmaker. He was born in Tokyo, Japan. Over his lifetime he created over seventy designs. His best known piece is the Japanese Fish Picture Collection (Dai Nihon gyorui gashu). Although this is his most famous piece of work, he also created many landscapes and also a number of bird and flower prints (kache-o). He was an honorary member of the Hyogo Prefecture Academy of Fine Arts, and a member of Taiheiyogakai. Artist: Bakufu Ohno (1888-1976) Publisher: Kyoto Hanga-in. Date: 1950. Size: 14 1/2" ;x 9 1/2". Title: Autumn Maple and Bird. Impression: Excellent. Color: Excellent...strong color, delicate shading. Condition: Very good...light toning, printer's ink smudges in margins, creases at lower left corner, tipped to the back sheet of the original presentation folder. This folder sheet has matt burns and writing, but neither of this things affect the print.