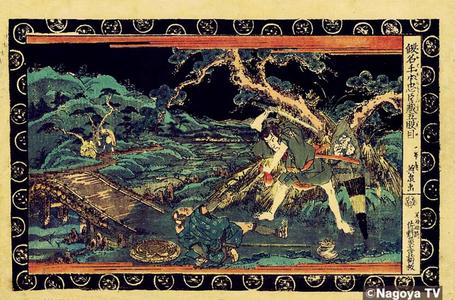 絵師: 渓斉英泉
作品名: Act 5 Yamazaki Road
日付: Not set
詳細: 詳細情報...
情報源: Japanese Art Open Database
浮世絵(全 17,130 件)を表示...
画題等:
Eisen Act 5 Yamazaki Road (161-1-5, 161-2-1) Kanpei meets his old comrade Chizaki Yagoro and it is hinted that the he will be pardoned for the accident by providing funds for the military. OkaruOs father Yoichibei sells his daughter, and as he is returning home with the money to support her husband Kanpei, he is attacked and killed by the villain Ono Sadakuro. By mistake, this Sadakuro takes KanpeiOs bullet aimed at a wild boar and dies. Kanpei rushes forward, only to be surprised with the body of a man, not a boar. Without knowing the full story, he takes the money bag and leaves. A rainy night on the Yamazaki road, we see the ronin form of Sadakuro as he kills Yoichibei and grabs the money bag.