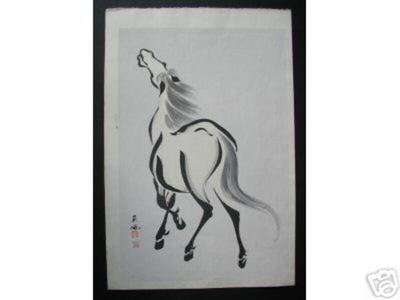 絵師: Imoto Tekiho
作品名: Horse 1
日付: Not set
詳細: 詳細情報...
情報源: Japanese Art Open Database
浮世絵(全 17,130 件)を表示...
画題等:
IMOTO TEKIHO (1909 - ) JAPANESE WOODCUT OF HORSE FOUR COLORS, HAND PRINTED AND BURNISHED Signed in Script and Chop on Oriental Paper The print is beautifully printed with four colors and probably four woodblocks. On the back one can see the hand burnishing marks made by an instrument used to push the paper against an inked block in order to pick up ink and produce the print. The paper size is 10 3/4" x 16", and the image measures 9 5/8" x 14 3/8". The print has been stored in a sleeve for twenty years and is in excellent condition. There is one small rust colored mark on the front left margin. An authenticity will be provided. 2004: Does Tekiho = Urushibaya? See the strikingly similar print under Urushibaya.