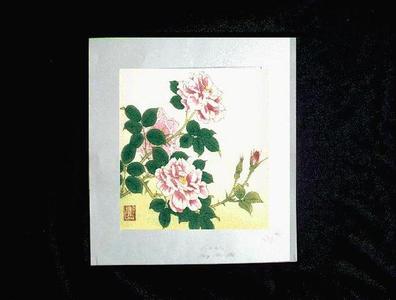 絵師: Ito Nisaburo
作品名: ROSES
日付: Not set
詳細: 詳細情報...
情報源: Japanese Art Open Database
浮世絵(全 17,130 件)を表示...
画題等:
Offered is Nisaburo Ito's ROSES, an embossed woodblock print from Uchida. Nisaburo Ito (1910-1988) continues a family tradition of artists that stretches back to the Edo Period. He was a Kyoto artist who became famous for his exquisite flower prints, though he also did landscapes of area temples. "Roses" is a superb print. The blooms are embossed, a technique used on finer woodblock prints. ( Embossing: the red areas of the blossoms are deeper set than the raised white areas so that the blooms are in 3-D. You can feel the depressions in the paper when you run a finger across the image.) The bud extending into the lower right quadrant is beautifully hued from light to dark, a marvelous printing feat. Colors are vivid and details are sharp. The background is beautifully shaded. The image is clearly visible on the back. The print was published inside a presentation jacket. On the outside of the jacket, near the bottom, is written in pencil "Roses by N. Ito" but I do not think it is his signature. On the back of the presentation jacket, lower corner, is written in pencil, "Bunko's" (a girl's name). So we can infer that this print was originally printed for and sold to the Japanese market in Japan. That would tally with the superb embossing work. Margin to margin, the print is 10.5" x 11.75". The image is 9.75" by 10.75". The presentation jacket is 13.5" x 15". There is some minor smudging in the lower right corner, outside the image, from the printing process. There is a red seal in the lower left of the image, and an impressed seal in the lower right corner of the presentation jacket. Colors are vivid, and details are sharp. The print is tipped to the backing along the upper edge.