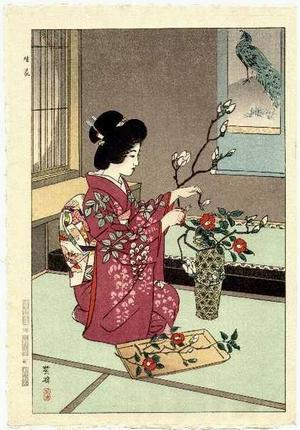 絵師: 笠松紫浪
作品名: Ikebana
日付: 1954
詳細: 詳細情報...
情報源: Japanese Art Open Database
浮世絵(全 17,130 件)を表示...
画題等:
Japanese Woodblock by Kasamatsu 'Ikebana' (ca. 1960) A beautiful and colorful scene titled in Japanese kanji (left margin) as "Ikebana" which (if needed) translates in English as "Flower Arranging" by Shiro Kasamatsu (1898-1991). Bears artist's signature/seal in lower left corner of image. Print bears Unsodo's Publisher's rectangular seal in left margin along with the carver/printer seals of Okura/Shinmi. Print itself is undated, however Dr. Andreas Grund's comprehensive reference lists print (#U-102) as first produced ca. 1960. Additionally, Okura (carver) is known to have worked for Unsodo during the 1950's, and Shinmi (printer) is currently in his 90's and has long since stopped working. Also bears "Gei" watermark ("gei" is the first kanji character of the of the Unsodo Publishers name, "Un-so-do," which is spelled "gei" if alone) in the lower left corner. Circa 1960's?an early edition. To learn more about "old paper" and the dating of Unsodo prints, please click the following link about "Old Paper." UPDATE?Recent word received from consignor indicates that this print was among the LAST 4 copies remaining at Unsodo. So, as I've said before (with other prints that I've "sold out"), "when they're gone, they'll be gone forever." Nicely printed?good use of "bokashi" (skillful gradation of colors) to various areas of the print, and nicely carved details. Good "bleedthrough" of colors to backside. Print is in pristine condition?no tears, no stains, no fading?clean backside. (Note: Small "notch" cut into the lower right corner is known as a "kento cut" and is a necessary aid in the printing process as this ensures perfect alignment and "registration" of the many various woodblocks used during the printing of each color.) Image measures 9 ? x 14 3/8 inches.