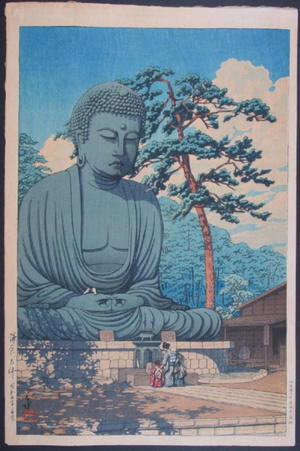 絵師: 川瀬巴水
作品名: Great Buddha at Kamakura
日付: 1930
詳細: 詳細情報...
情報源: Japanese Art Open Database
浮世絵(全 17,130 件)を表示...
画題等:
Kawase Hasui - Great Buddha at Kamakura (1930) Good quality Oban size woodblock. Image dimensions 24.4cm (W) x 34.5cm (H). Titled and dated Showa 5 (1930) in kanji in the lower left hand margin. The print bears the artist's signature and red sui seal in the lower left of the image. The lower right margin bears the Watanabe "C" seal applied to prints published between 1929 and 1942, and is consistent with this print being a First Edition. The print has full margins. The upper verso margin has two paper remnants from where the print has been tipped to card. Slight toning to the overall image, with whites somewhat yellowed. 11mm vertical tear in the bottom margin of the print 7cm from the right hand edge of the print. Can be easily repaired, and is scarcely visible even now. Very slight foxing visible at the bottom right corner margin ONLY - see image of Watanabe seal. No foxing visible in the image itself. No folds or creases in the washi. Very good image, even with the toning. Good registration of colours and bleed through of pigment to the verso. Embossing of the paper gives an extra dimension to the foliage of the trees. An interesting print, worthy of your consideration.