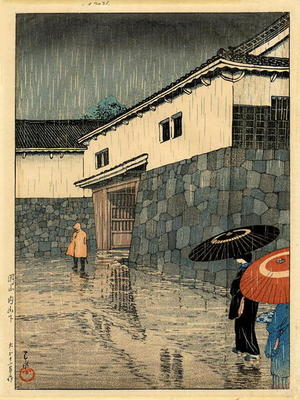 絵師: 川瀬巴水
作品名: Rain at Uchi-Yamashita, Okayama
日付: 1923
詳細: 詳細情報...
情報源: Japanese Art Open Database
浮世絵(全 17,130 件)を表示...
画題等:
Note: Post-quake: Of the series of 36 listed by Merritt & Yamada, it looks like 6 are post-earthquake. Obviously, the subject image is not one of them. [ Editor's note: confirming this, Pachter identifies N#112 "Uchiyamashita, Okayama" as the first Hasui print after the earthquake.] Now, take a look at Toledo 1930, numbers 108-113. Blair lists them under "Selected Landscape Series (Fukei Senshu)", and indeed these are the 6 post-earthquake prints in the series. An interesting point (if there is one) is that according to Blair, No. 108 was an edition of 300, No. 109-111 were editions of 200, No. 112 shows as 100, and No. 113 shows as 300. Apparently the fixed edition size of 300 contemplated at the outset of the series, was not the rule for those after the Sept 1 Big One. Rain at Uchisange Artist: Hasui Format: Small Oban tate-e: 11.75" x 9.75" Subject: From the series of selected landscapes, 'Rain at Uchisange'. A scene with two bijin out walking in the rain with open umbrellas, with a man wearing a raincoat standing before a doorway. Publisher: Round seal, Watanabe Date: Pre-earthquake, 1923 Condition: Fine colors. A small gum residue along top and bottom margins. Some small thinned spots. Minor marks and flaws. Generally fine state of preservation. Impression: Fine impression with gauffrage This work, clearly one of Hasui's great compositions, is titled "Rain at Uchi Yamashita, Okayama" and from the series "Selected Views of Japan". It was printed in 1923 by the publisher Watanabe. It has a superb composition, depicting a common alleyway with stonewalls in the old castle town of Okayama during a dowpour. The women with parasols provide an opening into the image further emphasized by the figure of another passerby draped in a yellow parka. Hasui's early works mostly draw on the rural and common places rather than the idyllic and picturesque images of Japan. This print has sharp color and great block registration. Reference: "Modern Japanese Prints 1912-1989" by Lawrence Smith. Catalog of prints at the British Museum, plate 41.