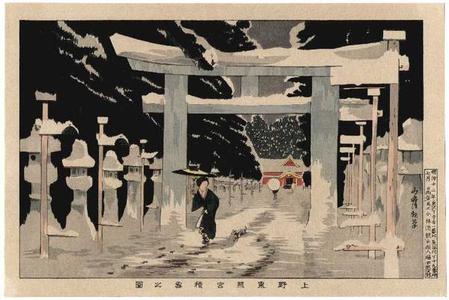 絵師: 小林清親
作品名: Snow at Toshogu Shrine, Ueno — 上野東照宮積雪之図
日付: 1879
詳細: 詳細情報...
情報源: Japanese Art Open Database
浮世絵(全 17,130 件)を表示...
画題等: Japanese Woodblock by Kiyochika 'Snow at Toshogu, Ueno' (1879) Well-known and widely recognized Meiji era woodblock print by Kiyochika Kobayashi (1847-1915) titled "Ueno Toshogu Sekisetsu no Zu" (translates as "Snow Scene at Toshogu Shrine, Ueno") and margin-dated as "Meiji 12" (or 1879). A later "re-strike" (that is, printed from recarved blocks), circa 1950's. ??? Superb print?one of the famous prints for which Kiyochika is well known. The workmanship in printing is quite good?nice gradation of colors ("bokashi") used throughout print, and a touch of "gauffrage" (embossing) adding real depth and texture to the snow. Bold, bright colors, and in very good to excellent condition?slight wrinkle at lower left (across signature and margin cartouche) and glue residues across top verso edge apparently where removed from folder. Image measures 8 シ x 12 5/8 inches.