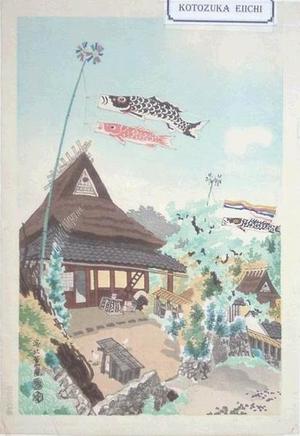 絵師: Kotozuka Eiichi
作品名: BOY'S DAY
日付: Not set
詳細: 詳細情報...
情報源: Japanese Art Open Database
浮世絵(全 17,130 件)を表示...
画題等:
THIS IS A PRINT BY KOTOZUKA EIICHI. IT IS ENTITLED "BOY'S DAY" AND DEPICTS THE COLORFUL FISH BANNERS DISPLAYED ON THIS YEARLY EVENT. (I HAVE HEARD THAT THERE IS A MOVEMENT TO EXPAND THE DAY TO INCLUDE GIRLS!) THE PRINT IS TYPICAL OF KOTOZUKA IN THAT HE FREQUENTLY DOES NOT USE THE "KEY" BLOCK TO PROVIDE A BLACK OUTLINE OF EVERYTHING. THIS GIVES HIS PRINTS THE APPEARANCE OF BEING WATERCOLORS OR CRAYON DRAWINGS. HIS PRINTS ALSO HAVE A "FREEHAND" LOOK ABOUT THEM - THEY DON'T HAVE MANY TRULY STRAIGHT LINES IN THEM. THERE IS NO TONING OR FADING. THE PRINT IS CURRENTLY SHRINKWRAPPED SO THE NAME LABEL YOU SEE IS JUST STUCK TO THE WRAPPING. THE IMAGE SIZE IS 10 3/8" x 15 1/2". THE PAPER SIZE IS 11 3/4" x 17 1/4".