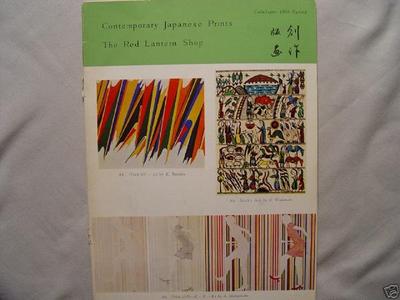 絵師: Red Lantern Shop
作品名: 1969 Spring Catalog
日付: Not set
詳細: 詳細情報...
情報源: Japanese Art Open Database
浮世絵(全 17,130 件)を表示...
画題等:
Wednesday, 22 March 2006 HERE IS AN EXCEPTIONAL CATALOG FROM THE RED LANTERN SHOP. THE RED LANTERN SHOP REPRESENTED JAPANESE ARTISTS, AND MAY STILL DO SO. THIS IS A 1969 SPRING CATALOG WITH ONLY 24 PAGES. THE CATALOG HAS 24 TIPPED IN COLOR PRINTS OR COLOR PHOTOS, THE OTHER 77 ARE BLACK & WHITE PAGE PHOTOS. THE COLOR PRINTS ARE SMALL, 2 3/4 X 2 3/4, 3" X 4", 1 1/2" X 4", 2 1/2 X 5", THEY ARE ALL IN THESE SIZES. (AT LEAST 11 TIPPED IN PRINTS ARE EITHER 4" INCH WIDE, OR 4" INCH LONG) THEY COULD STILL BE USED IN SMALL FRAMES, OR LEFT IN THE BOOK FOR REFERENCE. MOST OF THE ARTISTS IN THIS CATALOG ARE FAMOUS TODAY, WHERE-AS SOME WERE ALREADY FAMOUS. THE TIPPED IN COLOR PICTURES BELOW, HAVE THE ARTISTS NAME NEXT TO THE PICTURE. THE CATALOG WAS USED AND READ. THE OUTSIDE COVER IS LOOSE FROM THE STAPLES, BUT THIS CAN BE RE-DONE BY THE NEW OWNER. ALSO, A COUPLE THE PLATES HAVE A MARK NEXT TO IT THAT READS, "OUT". (ONLY 2) THERE IS ALSO A 1968 SPRING PRICE LIST FOR ALL 101 ART WORKS THAT ARE SHOWN IN THIS CATALOG.