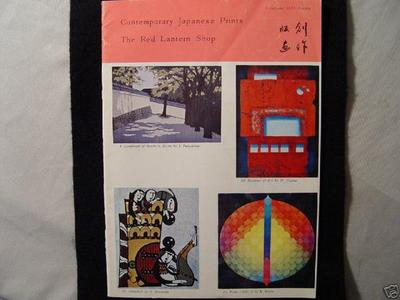 絵師: Red Lantern Shop
作品名: 1973 Spring Catalog
日付: Not set
詳細: 詳細情報...
情報源: Japanese Art Open Database
浮世絵(全 17,130 件)を表示...
画題等:
Tuesday, 25 April 2006 SPRING OF 1973 WAS THE LAST REGULAR EDITION WITH TIPPED IN PRINTS. AUTUMN 1973 WAS THE STARTING POINT FOR COLOR PLATES OR COLOR PHOTO PRINTS IN THE CATALOGS. I WILL PUT THAT ONE ON AFTER THIS CATALOG. AS I MENTIONED, THIS IS THE LAST ONE WITH THE TIPPED IN PRINTS IN THE REGULAR EDITIONS, SO DO NOT MISS OUT IF YOU WANT IT. THE TIPPED IN PRINTS CATALOGS ARE RARE, AND HIGHLY COLLECTIBLE. THE RED LANTERN SHOP REPRESENTED JAPANESE ARTISTS, AND MAY STILL DO SO. THIS IS A 1973 SPRING CATALOG WITH 20 PAGES. THE CATALOG HAS 20 TIPPED IN COLOR PRINTS OR COLOR PHOTOS, THE OTHER 91 ARE BLACK & WHITE PAGE PHOTOS. THE COLOR PRINTS IN THIS CATALOG MEASURE 1 x 3 1/2" & 2X2 INCHES AND UP, TO 4 1/2" INCHES LONG, AND WIDE. MOST OF THE ARTISTS IN THIS CATALOG ARE FAMOUS TODAY, WHERE-AS SOME WERE ALREADY FAMOUS. THE ARTISTS NAMES ARE NEXT TO THE TIPPED IN COLOR PRINTS IN THE PICTURES BELOW, OR AT THE TOP OF THE PAGE. THE CATALOG WAS USED AND READ, BUT NOT ABUSED. THIS ONE IS IN VERY GOOD CONNDITION. THERE IS ALSO A 1973 PRICE LIST FOR ALL 111 ART WORKS THAT ARE SHOWN IN THIS CATALOG.