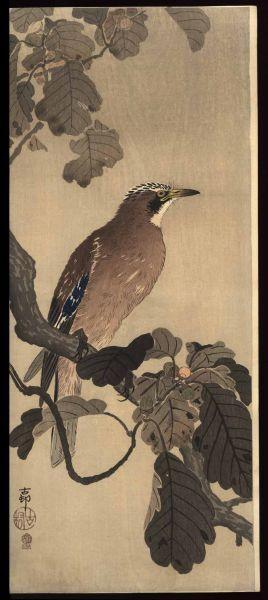 絵師: Shoson Ohara
作品名: Jay on an oak branch
日付: 1900
詳細: 詳細情報...
情報源: Japanese Art Open Database
浮世絵(全 17,130 件)を表示...
画題等:
OHARA KOSON Jay on an oak branch Date: c. 1900, published by Kokkeido (Akiyama Buernon). Kokkeido seal, signed Koson. This is one of Koson's earliest prints. Rare. Size: OVERSIZED naga-oban: 500 x 215 mm, 8.75" x 19.5" Condition: Full size (not trimmed), Fine. Impression: Fine. Color: Fine. Documentation: page 39 (catalogue #7) of Crows, Cranes & Camellias: the natural world of Ohara Koson. Leiden. 2001 A jay (Garrulus glandarius), identifiable by its pinkinsh-brown body, blue and black wings and black-and-white crest, rests on an oak branch. The jay eats all types of insects and plant matter, but acorns are its main food, and oak forests its preferred habitat. There are nineteen examples of these large format prints with bird subjects. The are generally considered to be Koson's earliest printed works for the publisher Kokkeido (Akiyama Buemon who also published Yoshitoshi's One Hundred Aspects of the Moon series), and they appear to be amongst the artist's rarest prints. They are characterised by careful printing and the use of the background wood-grain for effect. The fact that many impressions are toned is an unexplained feature. The unusual size of the Kokkeido works would have meant that great attention was paid to their production, an indication that the audience for them differed from ordinary prints. This care is exemplified in techniques such as the exposure of the wood-grain in the background to create texture and the application of gofun (Chinese white derived from ground oyster shell) as an accent.