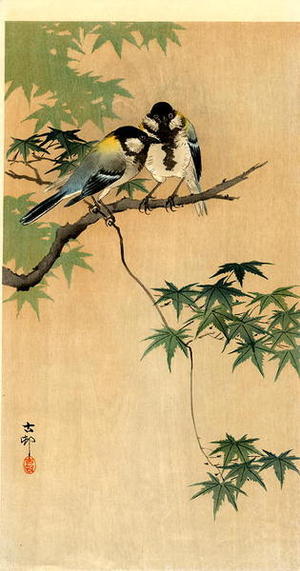 絵師: Shoson Ohara
作品名: Tits on Maple
日付: Not set
詳細: 詳細情報...
情報源: Japanese Art Open Database
浮世絵(全 17,130 件)を表示...
画題等: Tits on Maple Artist: Koson Format: O-tanzakuban tate-e: 14.25" x 7.5" Subject: Two great Tits (Parus major) perch on a Maple branch. The Maple frequently appears in Japanese literature and art because of its beautiful autumnal foliage. The compositional arrangement of this print, which runs diagonally from the upper left to the bottom right, dominates Koson's prints depicting birds on vines or branches. In this print, Koson's frontal placement of one of these acrobatic songbirds, which stares directly at us, gives the impression that we are ourselves the audience. For an illustration see 'Crows, Cranes & Camellias' K29.5 page 183, Cat# 113 page 120. Publisher: Daikokuya Date: c. 1910 Condition: Fine colors. Full size. Very minor creases, marks and flaws. Generally fine state of preservation. Impression: Fine impression with gauffrage.