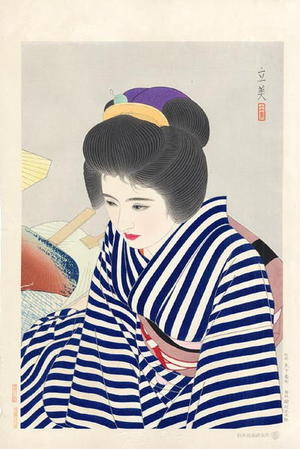 絵師: Tatsumi Shimura
作品名: Late Summer - Natsu Takete — 夏たけて
日付: Not set
詳細: 詳細情報...
情報源: Japanese Art Open Database
浮世絵(全 17,130 件)を表示...
画題等:
Artist: Shimura Tatsumi Format: Large Oban tate-e: 10" x 7.25" Subject: A bijin wearing a Yukata (summer cotton kimono). Beside her, three Uchiwa (round fan) are seen. One of them is decorated with the 'Red Fuji' by Hokusai. Tatsumi Shimura is known for designing several striking bijin-ga prints towards the end of the Shin Hanga movement. Born in Takasaki, Gunma, Shimura's real name was Sentaro. In 1921, he began studying art with Yamakawa Saiho, a well-known illustrator. Three years later, he became an apprentice of Saiho's son, Yamakawa Shuho, who was also a bijin-ga artist. Shimura exhibited paintings with Kyodotai in 1927 and with Seikinkai in 1938. He became known for his paintings of beautiful women with long eyelashes and blurred pupils. As a young man, Tatsumi also worked as an illustrator for newspapers, serialized novels, and magazines, notably for the Japanese magazine "Woman's world" (Fujokai). His most famous illustrations were for the novel Tange Sazen by Hayashi Fubo. From 1948 to 1952, Shimura designed several woodblock prints of beauties that were published by Kato Junji. Later he collaborated with the Japanese Institute of Prints to create a series called "Five figures of modern beauties" (Gendai bijin fuzoku gotai). These prints were published in 1953 in editions of 200. They depict Japanese women in traditionally feminine poses and attire. The finely detailed figures are juxtaposed against very simple backgrounds. "Late Summer" cleverly alludes to Hokusai's famous ukiyo-e print Red Fuji pictured on the woman's fan. After a solo exhibition on his sixtieth birthday in 1967, Shimura devoted his career entirely to Nihonga, or Japanese style painting. From the limited edition. In original folder as issued. Publisher: Japanese Print Institute Date: 1953 Condition: Full size with large margins (not fully shown in the scanned image). Fine state. Colour: Superb colors. Impression: Excellent impression of the 1st edition with gauffrage. Later editions lack the red seals in the left margin (see The Female Image pp181-3) Other Notes: Some toning, damages and tears to folder.