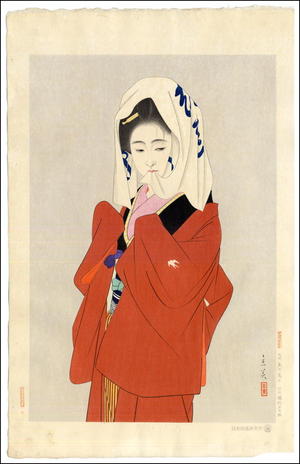 絵師: Tatsumi Shimura
作品名: Maihime (Dancing Girl)
日付: 1953
詳細: 詳細情報...
情報源: Japanese Art Open Database
浮世絵(全 17,130 件)を表示...
画題等:
Sunday, 7 February 2010 Shin Hanga: Start of the Dance Lot AU40 Artist: Tatsumi Shimura Format: Large oban tate-e: 18" x 11.5" approx Subject: Start of the Dance by Tatsumi Shimura. A bijin coyly bites her headscarf, insinuating she is very interested in her dance partner. These prints were published in 1953 in the limited edition of 150 (of which only the first 30 were signed in pencil). They depict Japanese women in traditionally feminine poses and attire. The finely detailed figures are juxtaposed against very simple backgrounds. Tatsumi Shimura is known for designing several striking bijin-ga prints towards the end of the shin hanga movement. Born in Takasaki, Gunma, Shimura's real name was Sentaro. In 1921, he began studying art with Yamakawa Saiho, a well-known llustrator. Three years later, he became an apprentice of Saiho's son, Yamakawa Shuho. Shimura exhibited paintings with Kyodotai in 1927 and with Seikinkai in 1938. He became known for his paintings of beautiful women with long eyelashes and blurred pupils. As a young man, Shimura also worked as an illustrator for newspapers, serialised novels and magazines, notably for the Japanese magazine "Woman's world" (Fujokai). His most famous illustrations were for the novel Tange Sazen by Hayashi Fubo. From 1948 to 1952, Shimura designed several woodblock prints of beauties that were published by Kato Junji. Later he collaborated with the Japanese Institute of Prints to create a series called After a solo exhibition on his sixtieth birthday in 1967, Shimura devoted his career entirely to Nihonga, or Japanese style painting. Publisher: Nihon Hanga Kenkyusho (Kato Junji) Carver: Nakagawa Chushichi Date: 1953 Condition: Full size. Minor marks and flaws. Generally fine state. Colour: Fine Impression: Superb of the 1st and only edition with embossed characters at base Other Notes: Complete with original title slip 8.75" x 4" approx. The horizontal line at centre you may see on your browser is a fault of the scanner and not of the print.