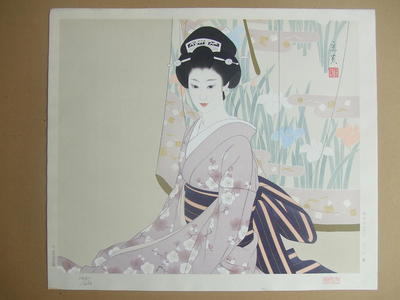 絵師: Tatsumi Shimura
作品名: Iris — あやめ
日付: Not set
詳細: 詳細情報...
情報源: Japanese Art Open Database
浮世絵(全 17,130 件)を表示...
画題等:
Sunday, 24 September 2006 We regret that this is the last Tatsumi original woodblock print that we have to offer at this time. We do not know if or when we will be able to obtain any more. "AYAME" ( IRIS) this extremely rare woodblock by Tatsumi Shimura (1907-1980). This is the ninth in Japanese woman series. Limited Edition, print 143 of 450. Tatsumi said about this print, "However, I do not draw a picture like a woodblock of the past. I describe it in free selfishness without being conscious of a woodblock." Rarely seen in Japan and nearly impossible to find outside of Japan as Tatsumi prints are extremely rare, highly cherished in Japan and seldom sold. I do not think this print has ever been seen outside of Japan. Tatsumi specialized in bijin ga - prints of beautiful women. He is most famous for his series "Five Figures of Modern Beauties" (Gendai Bijin Fuzoku Gotai). This limited edition print is numbered 143 of 450. Carver; Torazo Matsuda (very famous carver in Japan), Printer; Takeshi Uesugi, and Publisher; Yuyudo. Red seal appears" Sekiha no In" . Size is large: paper size is 19 and 1/4 inches by 16 and 1/4 inches. Colors are vivid, vibrant and in layers which makes them appear soft. The lines are crisp as this is a low number print. Absolutely stunning original hand Japanese made woodblock print. Nearly perfect condition except for two tiny stains in bottom margin are noted. There is a tiny defect in the paper next to carver's name which is almost impossible to see.