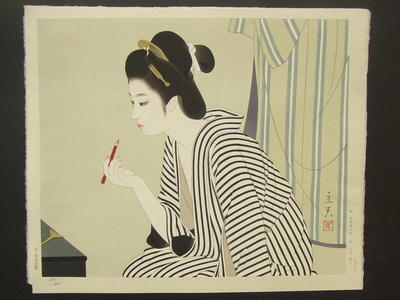 絵師: Tatsumi Shimura
作品名: Lipstick- Kuchibeni
日付: Not set
詳細: 詳細情報...
情報源: Japanese Art Open Database
浮世絵(全 17,130 件)を表示...
画題等:
Saturday, 9 December 2006 "Kutibeni" (Rouge) but generally called "Lipstick". This is an extremely rare woodblock by Tatsumi Shimura (1907-1980). Limited Edition, print 227 of 450. Tatsumi said about this print, "A geisha wears lined Kimono (called "Awase") on the bare skin in the bath up. An earnest thing does not have a face of a woman staring at a mirror. This is the scene where she has finished attaching lipstick to. Her hairstyle is called " Tsubushi Shimada". Some middle-aged Geisha do this hairstyle. Tatsumi expressed "smart / stylish of Geisha". Rarely seen in Japan and nearly impossible to find outside of Japan as Tatsumi prints are extremely rare, highly cherished in Japan and seldom sold. I do not think this print has ever been seen outside of Japan. Tatsumi specialized in bijin ga - prints of beautiful women. He is most famous for his series "Five Figures of Modern Beauties" (Gendai Bijin Fuzoku Gotai). Tatsumi's prints are held by the world's most famous museums. This limited edition print is numbered 227 of 450. Carver; Kentaro Maeda (very famous carver in Japan), Printer; Ritsuzo Sato, and Publisher; Yuyudo. Red seal says " Tatsumi Ken In" . Size is very large: paper size is 19 and 1/2 inches by 16 and 1/2 inches. Colors are vivid, vibrant and in layers which makes them appear soft. The lines are crisp. Absolutely stunning original hand made Japanese woodblock print. Nearly perfect condition except minor toning on verso - not seen from the front. Never framed. Additional pictures gladly provided upon request. Comes with original presentation folder which carries the title as " Lipstick".