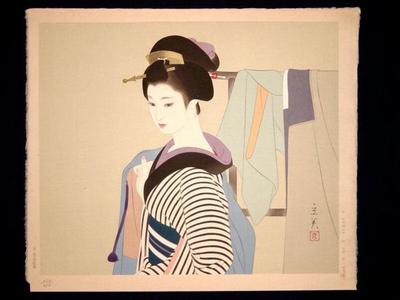 絵師: Tatsumi Shimura
作品名: Haori- Japanese Formal Coat
日付: Not set
詳細: 詳細情報...
情報源: Japanese Art Open Database
浮世絵(全 17,130 件)を表示...
画題等:
You are bidding on a large and very rare original Japanese woodblock print from the Series "Modern Beauties Bijin Ga, Gendai Bijin Fuzoku Gotai" signed by the famous Shin-Hanga artist Shimura Tatsumi (1907-1980). Tatsumi was born in Takasaki in Gunma prefecture under the given name of Sentaro in 1907. Shimura Tatsumi was specialized in bijin-ga (woodblock print of beauties), the genre of the depiction of beautiful women. The women in his woodblock prints look very fashionable, trendy, beautiful and cute - with big eyelashes and a sensual lipstick mouths. Shimura Tatsumi was mainly a traditional Japanese painter, so he did not create a lot of bijin ga prints before he died in 1980. The designs of his woodblock prints have an individual style and are something special - and beautiful. Because of these reasons, his Bijin ga woodblock prints are hard to find and are highly priced in Japan and Europe. The information of Shimura Tatsumi and his woodblock print can be easily found on any search engine. His woodblock prints are hard to be found and sold for thousands dollars in the galleries. The size of this woodblock print is 19 x 16 1/2 inches. The colors, which are vivid and vibrant, are in layers. This woodblock print is not attached any backing paper or cardboard. Ink bleeding can be seen through the back of the original Japanese mulberry Washi paper. All four borders are intact. The artist's signature and his chop mark are in the lower right corner of this print. Four borders are intact. In the lower right border of this woodblock print, there is a small red chop mark of the artist's signature again. The carver and printer's seals are also in the lower right border above the small red artist's chop mark. The publisher's seal is in the lower left border. At the left of the bottom border, it is written 423/450, means this is the number 423 out of 450 total print. As far as I can tell there are no defects, foxing, or stains, and this woodblock print is in excellent condition.