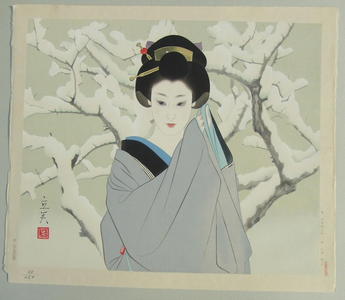 絵師: Tatsumi Shimura
作品名: Snow-
日付: Not set
詳細: 詳細情報...
情報源: Japanese Art Open Database
浮世絵(全 17,130 件)を表示...
画題等:
Monday, 4 December 2006 TATSUMI SHIMURA - Limited Edition "Sei (Shizuka)" - Quite (Stillness) "Sei" (Quite) this extremely rare woodblock by Tatsumi Shimura (1907-1980). Most often known by the name "Snow". Limited Edition, print 68 of 450. Tatsumi said about this print, "My parents wanted to name me "Yuki-o (Yuki means snow). The parents loved snow. They still do not yet calm down restlessly when it begins to snow. " He goes on to say about this print, " There is a beautiful sight of the snow in the morning. Nature make the malformed beauty to be beyond imagination during single night. I do not want to disturb it. I want to leave alone. I follow this title 'Sei (Shizuka)' in this sense." This limited edition print is numbered 68 of 450. Carver; Kentaro Maeda (very famous carver in Japan), Printer; Ritsuzo Sato, and Publisher; Yuyudo. Red seal says " Tatsumi Ken In" . Size is very large: paper size is 19 and 1/2 inches by 16 and 1/2 inches. Colors are vivid, vibrant and in layers which makes them appear soft. The lines are crisp as this is extremely low number print. Absolutely stunning original hand made Japanese woodblock print. Nearly perfect condition except for some extremely faint foxing on verso which are only seen in bring natural sunlight. Never framed. Additional pictures gladly provided upon request. Comes with original presentation folder which carries the title as "Snow".