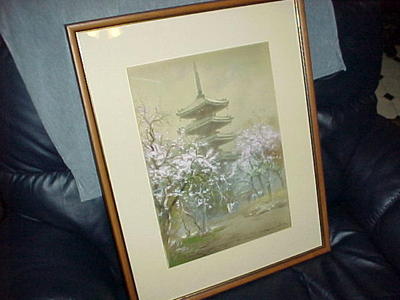 作品名: Pagoda Spring Cherry
日付: Not set
詳細: 詳細情報...
情報源: Japanese Art Open Database
浮世絵(全 17,130 件)を表示...
画題等:
An original Japanese (or possibly chinese) watercolor, signed Tanauchi at the lower right. This is a very nice watercolor and most likely was done by a professional artist.( IT IS NOT A WOODBLOCK PRINT, IT IS A WATERCOLOR.) The frame size is 16" by 20" and the sight size (opening in mat) of the watercolor is 10" b 14". - I believe the watercolor was done sometime around the 1930s or 40s. - I have not been able to find any biographical info on the artist, but did find an auction record for a watercolor by him for $140.00. (Harvey Clars auction). --- The wood frame has a natural wood finish and is in very good condition and still is sealed in the rear. The watercolor appears in mint condition. ---- The artist was able to get a pastel-like color for the foloiage in the cherry trees. Possibly there is some pastel mixed in with the watecolor in that area.