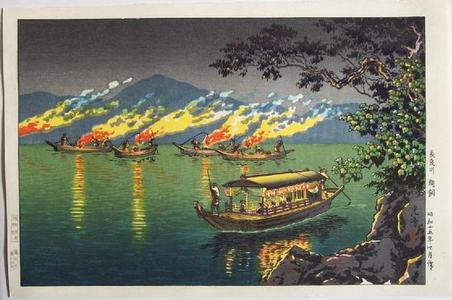 絵師: 風光礼讃
作品名: Fishing for Cormorants at Nagaragawa
日付: 1940
詳細: 詳細情報...
情報源: Japanese Art Open Database
浮世絵(全 17,130 件)を表示...
画題等:
A bold and unusual nighttime scene of cormorant fishing boats (using fires to attract fish) as a lantern-laden pleasure boat of viewers looks on?by Koitsu Tsuchiya (1870-1949) titled "Nagaragawa Ukai," which translates as "Fishing with Cormorants at Nagara River" and margin dated as "Showa 15," or 1940. Published by Doi Eiichi and with the printer/carver seals Harada/Seki. Doi "watermark" upper right corner. Circa 1981-95 (not new). The workmanship in both carving and printing is very good. Nicely executed changes of color shading ("bokashi") seen virtually throughout the print, and nicely carved details. Print shows crisp, sharp "keylines" and hence, great details. Known for his exceptional "depiction of light" in nearly all of his prints, this is another example of Koitsu's mastery. Print shows no signs of any prior mounting and is in very fine condition. Clean backside?bold, fresh, bright colors. Image measures 9 ? x 14 3/8 inches.