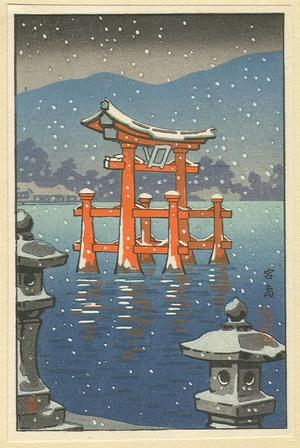 絵師: 風光礼讃
作品名: Miyajima- Postcard
日付: 1930
詳細: 詳細情報...
情報源: Japanese Art Open Database
浮世絵(全 17,130 件)を表示...
画題等:
Monday, 14 February 2005 Picked up an interesting lot of small-format prints lately. This was from the estate of someone who lived in Japan, and likely in Yokohama, in the 1930's until at least 1940. They had bought sets of note-cards from both Watanabe and Takemura, and had received some others as correspondence. I'm pretty sure all of the prints were purchased in the '30's. The Takemura prints generally don't have what you identify as the Takemura postcard seal. Instead they have smaller versions of some of the Takemura seals you normally find on chuban- or oban-sized prints. One seal is not in your archive at all, but is similar to some there (vertical arrows with two characters below, all in a square outline). There are two definite Koitsu postcards by Takemura, and they don't seem to be in your archive. These two prints also have a stamp verso similar in style to what is normally found on Nishinomiya/Hasegawa prints. It reads: Wood Block Printed H. Takemura & Co. 45 Bentendori (?) Yokohama, Japan The street name is hard to read, but it looks like Bentendori.