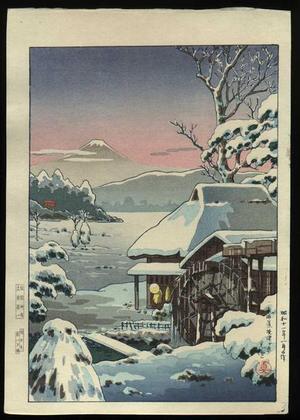 絵師: 風光礼讃
作品名: Yaizu No Hara - Tokaido, or Yakitsugahara — 東海道焼津の原
日付: 1937
詳細: 詳細情報...
情報源: Japanese Art Open Database
浮世絵(全 17,130 件)を表示...
画題等: Koitsu-TaizuNoHara-Tokkaido- Eiichi_Harada_Seki- 2.jpg is: Yaizu in Snow on the Tokado by Tsuchiya Koitsu. Genuine woodblock print dated January Showa 11 (1936). Later impression from original blocks. Fine condition. 11.5 x 8.0 inches. Date in right margin. Title, Koitsu characters and red shin seal in lower right of image. Doi publisher's seal, Harada carver's seal and Seki printer's seal in left margin.