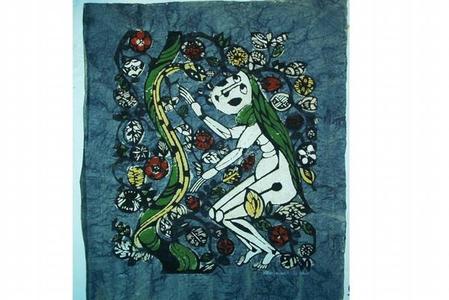 絵師: 渡辺貞夫
作品名: Eve
日付: 1965
詳細: 詳細情報...
情報源: Japanese Art Open Database
浮世絵(全 17,130 件)を表示...
画題等:
The auction is for a Japanese Woodblock Print, "Eve" by the well-known Sado Watanabe. S/N: Signed, numbered, limited edition: Signed in white ink, on rough rice paper. 30/50 History: This print was purchased from a gallery by a fine arts appraiser and collector in the 1960's in Japan. Still in business after 30 years, but considering retirement, he has decided to part with some of the pieces in his large collection. I am assisting by listing for him. Please, look for more from his collection in the future. If you have interest in a particular artist from this period, or other work by this artist, feel free to enquire. Any questions will be relayed to him and addressed by him. The artist: Watanabe is sometimes refered to as the "Japanese Christian artist". Well-known and beautifully distinct, Watanabe's work can be found in several reference books. This item was listed in the 1968 catalog from the Red Lantern Shop in Kyoto, Japan. (Photos of catalog available upon request, but catalog is not for sale) He has a very recognizable style, reminiscent in some ways of stained glass windows. This is part of a series inspired by the Bible/ Biblical scenes. Selections from this series have brought considerably high prices at auction in recent years. From the Old Testament, Eve is before and slightly below the yellow Serpent on a green tree trunk, all on a dark blue field. Condition: The print has been conserved in a climate-controlled, clean environment. No exposure to sunlight. (For more photos, please ask) Suitable for framing. Good condition. The paper itself is 26 1/2 inches high and 23 inches wide, but the block and content of the print are only 21 1/4 by 17 1/2. The difference is not distinct, as you can see from the picture.