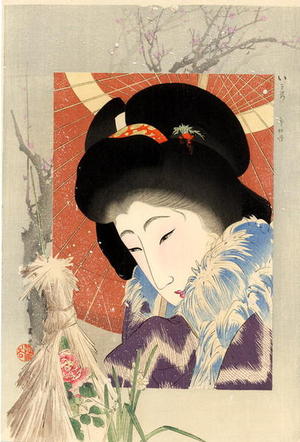 絵師: 山本昇雲
作品名: Snow peony — 寒牡丹
日付: 1906
詳細: 詳細情報...
情報源: Japanese Art Open Database
浮世絵(全 17,130 件)を表示...
画題等:
Early Shin Hanga: Fashions of Today Series: Winter Snow Lot AU43 -------------------------------------------------------------------------------- Artist: Shoun Format: Oban tate-e: 15.25" x 10" Subject: A beautiful young woman sheltering from the winter snow beneath an open umbrella. The masterpiece from this important series, described by Abe Setsuko (Andon, 1992) as the turning point between Meiji-period Ukiyo-e and Taisho-period Shin Hanga. Signed lower left; Shoun, followed by circular publisher's seal. Shoun was born in Kochi city with the given name Masaburo, and moved to Tokyo at age 17 to study Nanga painting with Taki Watei. From 1902 he exhibited Japanese-style paintings. From age 20, Shoun worked as an illustrator for "Fuzoku Gaho", a pictorial journal dealing with popular places in Tokyo. He is best known for his "Moku-hanga" of traditional subjects including "bijin-ga", "kacho-ga" and landscapes published by Matsuki Heikichi. Publisher: Matsuki Heikichi, Tokyo Date: 1906 Condition: Flawless, pristine state. Full size. The finest example we have seen. Museum quality. Colour: Perfect colors Impression: Quite magnificent with gauffrage and extensive hand applied gofun.