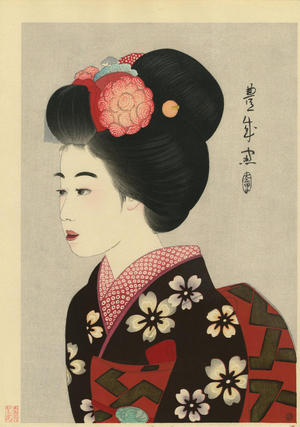 絵師: Yamamura Koka
作品名: Maiko
日付: 1924
詳細: 詳細情報...
情報源: Japanese Art Open Database
浮世絵(全 17,130 件)を表示...
画題等:
Friday, 12 November 2010 TOYONARI YAMAMURA (KOKA) A Maiko Girl Date: originally published 1920 by Watanabe, this is a later edition hand printed from the original wood blocks Size: oban, with full margins, 11.5" X 16.25" Condition: Fine, no flaws, uncirculated print, never framed Impression: Fine, solid key lines, nice surface texture, tight registration, very fine silver mica background Color: Fine, deep saturated color and bleed through to verso Documentation: See page 90 of The Female Image: 20th Century Prints of Japanese Beauties, Hotei, 2000 The appearance of an apprentice geisha in Kyoto in the 1920s. The word Maiko literally translates to "dancing child" (mai = dance, ko = child), but is also referred to as "dancing girl." A Maiko is an apprentice Geisha who must must undergo a period of training that generally takes 5 years, where she learns the various gei (arts) such as dancing, singing, and music before she becomes a Geisha. Maiko is also a feminine Japanese given name. This print marks the first time since the Watanabe began issuing its line of atozuri prints in the late '90s, that blocks have been located for a pre-earthquake design. According to Shoichiro Watanabe, the blocks for this design was returned to the Toyonari family after printing, and so they were not in the Watanabe studio when it was destroyed in the fire following the Great Kanto Earthquake of October 1923.