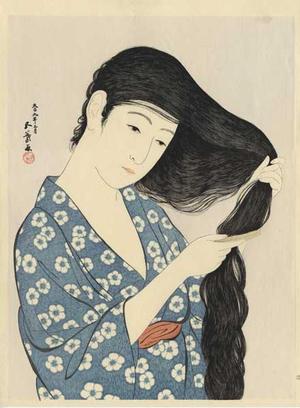 絵師: 橋口五葉
作品名: Woman Combing her Hair — 髪すける女
日付: 1920
詳細: 詳細情報...
情報源: Japanese Art Open Database
浮世絵(全 17,130 件)を表示...
画題等:
Woman Combing Her Hair, 1920 Hashiguchi Goyo, 20th century master- With the permission of Goyo's heirs, a couple small commemorative runs of his prints were produced. These prints are also very rare today. But, they offer an opportunity to collect a Goyo woodblock reprint at a cost more in line with most collectors' budgets. These reprints were produced to the same exacting standard of Goyo's originals. Expert carvers were contracted to produce the highest quality wood blocks and printers meticulously reprinted Goyo's originals with the same attention to quality and detail. These reprints are on beautiful, hand made paper printed with the same colors and mica detail as Goyo's originals. The prints offered tonight in our auctions are from one of those reprint sets. This Print; Woman Combing Her Hair- Fantastic Goyo print in a soft, simple color scheme on a luminous white background. The print depicting a young beauty in a cotton kimono combing her lustrous black hair. Her beautiful white skin and lovely face set off against the soft colors in the kimono and her black hair. A classic design and, without question, a 29th century woodblock masterpiece. This print with a soft, shimmering mica added to the white background replicating the original- beautiful effect. Signed- Goyo-ga Image size- 12 7/8" x 17 1/4" (+ full margins) Sheet size- 13 5/8" x 19 3/8" Condition- Perfect condition with no flaws to note. Excellent color, no fading, fine linework. This print has been stored only, never framed.