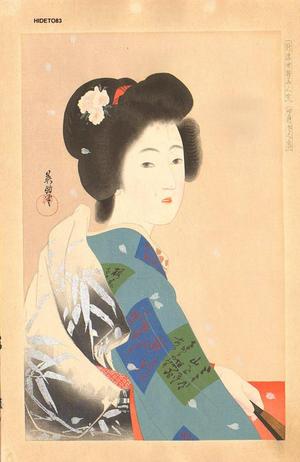 絵師: Hirezaki Eiho
作品名: April, cherry blossoms — 四月 さくら
日付: 1924
詳細: 詳細情報...
情報源: Japanese Art Open Database
浮世絵(全 17,130 件)を表示...
画題等:
Artist: Hirezaki Eiho (1881-1968) Subject: A seated bijin. April, cherry blossoms. Series: Shin ukiyo-e bijin awase (New ukiyo-e beauties compared). Signature: Eiho hitsu. Artist seal. Date: 1924. Size: Large oban, 44,5x28,5 cm. Reference: Other examples are illustrated in Amy Newland e Hamanaka Shinji. The female image 20th century prints of Japanese beauties. Leiden 2000, no.126. Muneshige Narazaki (editor) Ukiyo-e Masterpieces in Western Collections. The Muller Collection. Tokyo, 1990, no.118. Remarks: This print is from a collaborative series by eleven artists, with twelve feminine portraits each associated with a month of the year. This prints stands as one of the best design in the set.