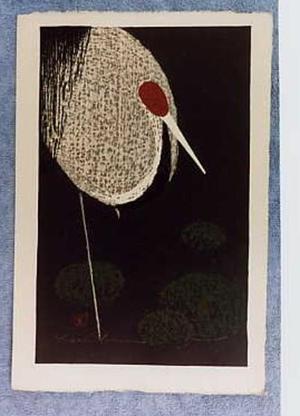 絵師: 河野薫
作品名: Sacred Lake
日付: Not set
詳細: 詳細情報...
情報源: Japanese Art Open Database
浮世絵(全 17,130 件)を表示...
画題等:
Japanese Woodblock Print, Standing Crane, K Kawano Japanese woodblock print of a crane standing on one leg above green lily pads. The print is 16 ? x 11 inches overall, and the image is 14 7/8 x 9 3/8 inches. To the left of the leg is what I believe the artist's seal. The pencil signature "Kaoru Kawano" is in the print just below the leg. Condition: Excellent. Good crisp printing on heavy woven paper. This print may not show well in the scan of the photo. The red dot is the top of the head, the slender white triangle extending to the right is the bill; the white arc is the neck (shadowed in black); the grey egg shape is the body, and the straight white line the leg. Kaoru Kawano lived from 1916 to 1965. I would guess this print is from the late 1950's or early 1960's.