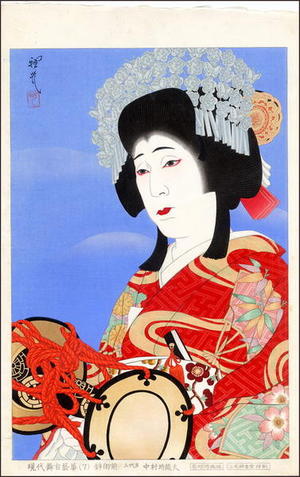 絵師: Ohta Masamitsu
作品名: Nakamura Tokizo III as Shizuka Gozen
日付: 1954
詳細: 詳細情報...
情報源: Japanese Art Open Database
浮世絵(全 17,130 件)を表示...
画題等:
Wednesday, 26 July 2006 Portraits of Actors in their Famous Roles: #7 Lot AU86 -------------------------------------------------------------------------------- Artist: Ota Masamitsu Format: Large oban tate-e :17" x 11" Subject: An unidentified actor in the role of an oiran. Print impressed mark 137 at base right. Ota's portraits are notable for their realistic shading and attention to detail, especially in the hands, faces, and clothing of the actors. It is interesting to compare Yamamura Toyonari's 1916 print of Oboshi Yuranosuke to Ota's 1955 print of the same role. Similar to the ukiyo-e prints of Sharaku and Toyokuni, Toyonari's simple design has a flat stylized quality rarely seen in later shin hanga. Ota's portrait is much more three-dimensional, employing the Western techniques of perspective and shading. The contrast in detail between the sharply etched actor and the blurred receding background gives his prints a wonderful sense of depth. Ota's prints emphasized the individual personality of the actors over any traditional design conventions. Date: 1955 Condition: Full size. Minor foxing, marks and flaws. Generally fine state. Colour: Fine Impression: Very fine with gauffrage and silver mica in the cloudy background.