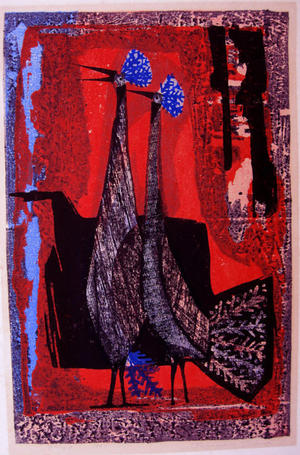 作品名: Abek
日付: 1961
詳細: 詳細情報...
情報源: Japanese Art Open Database
浮世絵(全 17,130 件)を表示...
画題等:
Sunday, 24 July 2011 Take one look at this Shima woodblock of "Two Friends" and you say they must have been good ones to exude all that happy boldness, brightness and color. This is the most just-plain cheerful Shima I've ever seen. Made in 1961, the woodblock's image weathered the years well, the colors as bright as ever. No bends, no flaws of any kind. A previous owner, however, keep the happiness in a bright room and 50 years of sunlight sunburned, or toned, the margin out 1/4 inch. You can see the effect in the signature picture. My own opinion is the woodblock would lose little matted back to the toning line. I'm a full-disclosure dealer. The only surprises I want when my prints show up are good ones. Artist -- Tamami Shima Title -- Two Friends Genre -- Semi-abstract woodblock Size -- Paper 16.75x11.5 inches; image 15x10 Year -- 1961 Edition -- 6/100 Condition -- Front, as noted; verso, toning and one shadow from removed mounting tape.