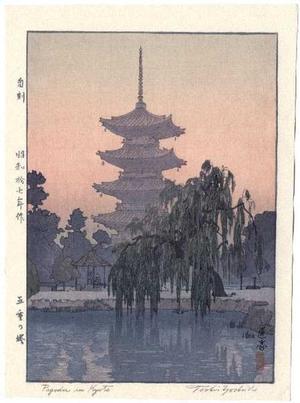 絵師: 吉田遠志
作品名: Pagoda in Kyoto- Goju no To
日付: 1942
詳細: 詳細情報...
情報源: Japanese Art Open Database
浮世絵(全 17,130 件)を表示...
画題等:
Woodblock by Toshi Yoshida 'Pagoda in Kyoto' (1942, jikoku) Lovely scene by Toshi Yoshida (1911-1995, son of Hiroshi) titled in both Japanese kanji as "Goju no To" and English as "Pagoda in Kyoto." Print is margin-dated "Showa 17," or 1942 and bears a "jikoku" seal (top, left margin) indicating these blocks were self-carved by Toshi himself. Print bears artist's block-signed signature. Circa likely 1990's. Print has never been framed and is in absolute pristine condition. Wonderfully done "bokashi" (gradation of color) shading to the sky's colors; very lifelike reflections seen in water. Great colors. Print is "chuban" size, the image itself measures 6 ? x 9 ? inches.