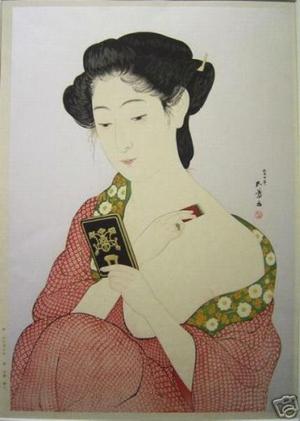 絵師: 橋口五葉
作品名: Woman Applying Makeup- Kesho no Onna — 化粧の女
日付: 1918
詳細: 詳細情報...
情報源: Japanese Art Open Database
浮世絵(全 17,130 件)を表示...
画題等:
Wednesday, 30 November 2005 Limited, commemorative edition (about 1975) woodblock print by Goyo Hashiguchi (1880 - 1921) Title of print is Kesho no Onna (Woman applying make-up) Originally published in 1918 and was Goyo's second Bijin-ga print. Title of print, artist's signature and seal (above shoulder), Yuyudo publisher's seal on print. Limited edition stamp, 26/200 on original, custom folder. Printer is Sato Ritsuzou. Carver is Kentaro Maeda. Very nice classic work of art! Measures 54 cm x 39 cm. (larger than the latter 80s edition) Original folder measures 64.5 cm x 52 cm. The print comes in its original folder with washi cover slip and windowed front matte. It is not mounted and can be easily removed from the folder for display. The folder has some staining, as seen in the photos, but the print is in excellent condition, aside from some slight crease marks near the lower left half of the print. Barely even visible. It's as close to perfect as it can be. The impression is exceptional, as are the colors. Overall, a very beautiful, frameworthy piece!