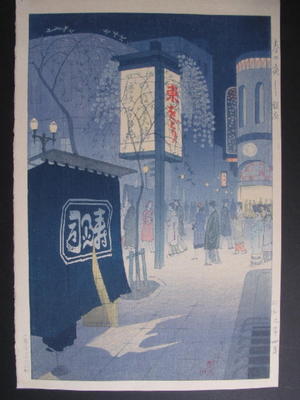 絵師: 笠松紫浪
作品名: Spring Evening, Ginza
日付: 1934
詳細: 詳細情報...
情報源: Japanese Art Open Database
浮世絵(全 17,130 件)を表示...
画題等:
Shiro Kasamatsu Woodblock - Spring Evening, Ginza (1934) Shiro Kasamatsu (1898-1991) A beautiful example of shin-hanga presented in immaculate condition. A highly collectible piece. This piece is Oban size, the image dimensions are 36.4cm (H) x 24.0cm (W). It is titled and dated Showa 9 (1934) in Japanese in the right hand margin. It also bears the Watanabe C seal (or "sausage" seal) in the lower left hand margin. This seal was applied to prints published between 1929 and 1942. The artist was first discovered by pioneering shin-hanga publisher Shozaburo Watanabe in 1919 (who began publishing his work the same year), the two then began an association which was to last until the 1940s. Watanabe was responsible for coining the term shin-hanga, and also published other famous artists' work, including Kawase Hasui and Ito Shinsui. The print is also signed "Shiro" in dark blue ink above his "Shiro Saku" seal in red in the bottom left area of the image.