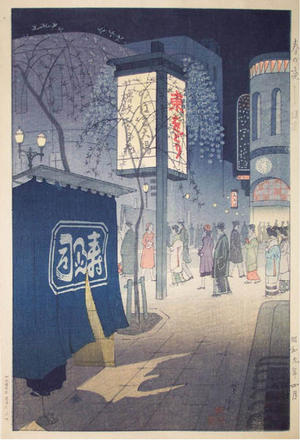 絵師: 笠松紫浪
作品名: Spring Evening, Ginza
日付: 1934
詳細: 詳細情報...
情報源: Japanese Art Open Database
浮世絵(全 17,130 件)を表示...
画題等:
Japanese Woodblock by Kasamatsu 'Spring Night Ginza' (1934) A beautiful and classic scene titled in Japanese kanji (right margin) as 'Haru no Yo Ginza' which translates in English as 'Spring Night at Ginza' by Shiro Kasamatsu (1898-1991). Bears artist's signature/seal in lower right corner of image. Print bears Watanabe Shozaburo Publisher's oblong 'C seal' (used only 1929-42) in left margin indicating this to be a RARE First Edition printing. Dr. Andreas Grund's authoritative reference 'The Complete Woodblocks of Shiro Kasamatsu' lists this print as #W-15; and it is shown elsewhere as in Blair's, Toledo 1936, pl. #172; and Merritt's pg 61. Likely this is Kasamatsu's most famous image. Rarely seen, flawless condition. Early Watanabe 'C seal' (Blair/Toledo 1936--indicates edition of 100). Circa 1930's, First Edition. Seldom seen, the presence of this print's Watanabe Shozaburo Publisher's oblong 'C seal' seen in the lower left margin indicates that this is a FIRST EDITION printing. To learn more about the dating of editions and prints by Watanabe Publisher, click the following link about "Watanabe Publisher." Nicely printed superbly executed 'bokashi' (gradation of color) throughout the print, with a wonderful 'atmospheric'quality. Crisp, sharp 'key-lines.' Excellent 'bleedthrough' of colors to backside. Print is in absolutely excellent condition-no tears, no fading, no foxing. Clean backside. (No flaws noted.) Image measures 9 3/8 x 14 1/4 inches.