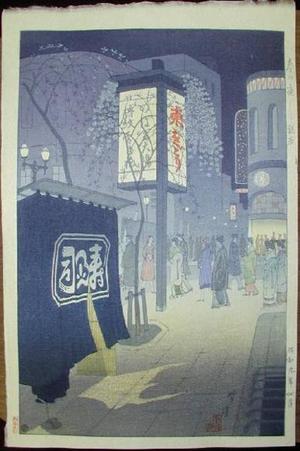 絵師: 笠松紫浪
作品名: Spring Evening, Ginza
日付: 1934
詳細: 詳細情報...
情報源: Japanese Art Open Database
浮世絵(全 17,130 件)を表示...
画題等:
Kasamatsu Shiro - Spring Evening, Ginza- 2.jpg is: Japanese Woodblock by Kasamatsu 'Spring Night at Ginza' (1934) A beautiful and classic scene titled in Japanese kanji (right margin) as "Haru no Yo Ginza" which translates in English as "Spring Night at Ginza" by Shiro Kasamatsu (1898-1991). Bears artist's signature/seal in lower right corner of image. Published by Watanabe Publisher (and bearing both a 7mm seal and red "Heisei" margin seal), this print is among six additional images just re-issued prints (5 by Hasui and this 1 by Kasamatsu) that have not be printed for many years. Dr. Andreas Grund's authoritative reference "The Complete Woodblocks of Shiro Kasamatsu" lists this print as #W-15; and it is shown elsewhere as in Blair's, Toledo 1936, pl. #172; and Merritt's pg 61. Likely this is Kasamatsu's most famous image. This has previously been a very sough after and rarely seen image. Newly printed off of Watanabe's original blocks and very true to the 1930's originals of which I have sold several (SEE recent eBay Item #2100880252). The printing quality maintained by Watanabe is amazing. Circa 2002. Print is in absolutely flawless condition--no flaws noted. Clean backside. Image measures 9 3/8 x 14 1/4 inches.